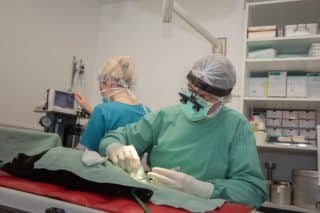 The Tournamy Vet Cinic offers a wide variety of surgical services.
Spaying
The surgery is performed using general anesthesia, and involves the removal of the ovaries and the uterus.
Ideally pets should be spayed at the age of 5-6 months, before they experience their first heat cycle.
Neutering
Dogs and cats are usually neutered at the age of 6 months when their organs are more developed and capable of dealing with the anesthetic.
Orthopedic and soft tissue surgery
Orthopedic surgery refers to bone surgery. Conditions requiring orthopedic surgery include – cruciate ligament repair and fractures.
For some surgeries, we prefer to refer ti specialists we know and trust.
Soft tissue surgery refers to surgeries not associated with bone. The most common soft tissue surgery performed at our clinic is the removal of masses or lumps. Early detection, removal. and diagnosis of these masses can ensure the health of your pet.